WELCOME TO MIAMI!
ETH Walkers: Miami features a massive map with TWENTY-SIX locations.  Each location in Miami features it's own distinct style with unique characters to meet, locations to explore, items to discover, and mysteries to uncover.
Take a tour of the map below and see all that our version of Miami has to offer!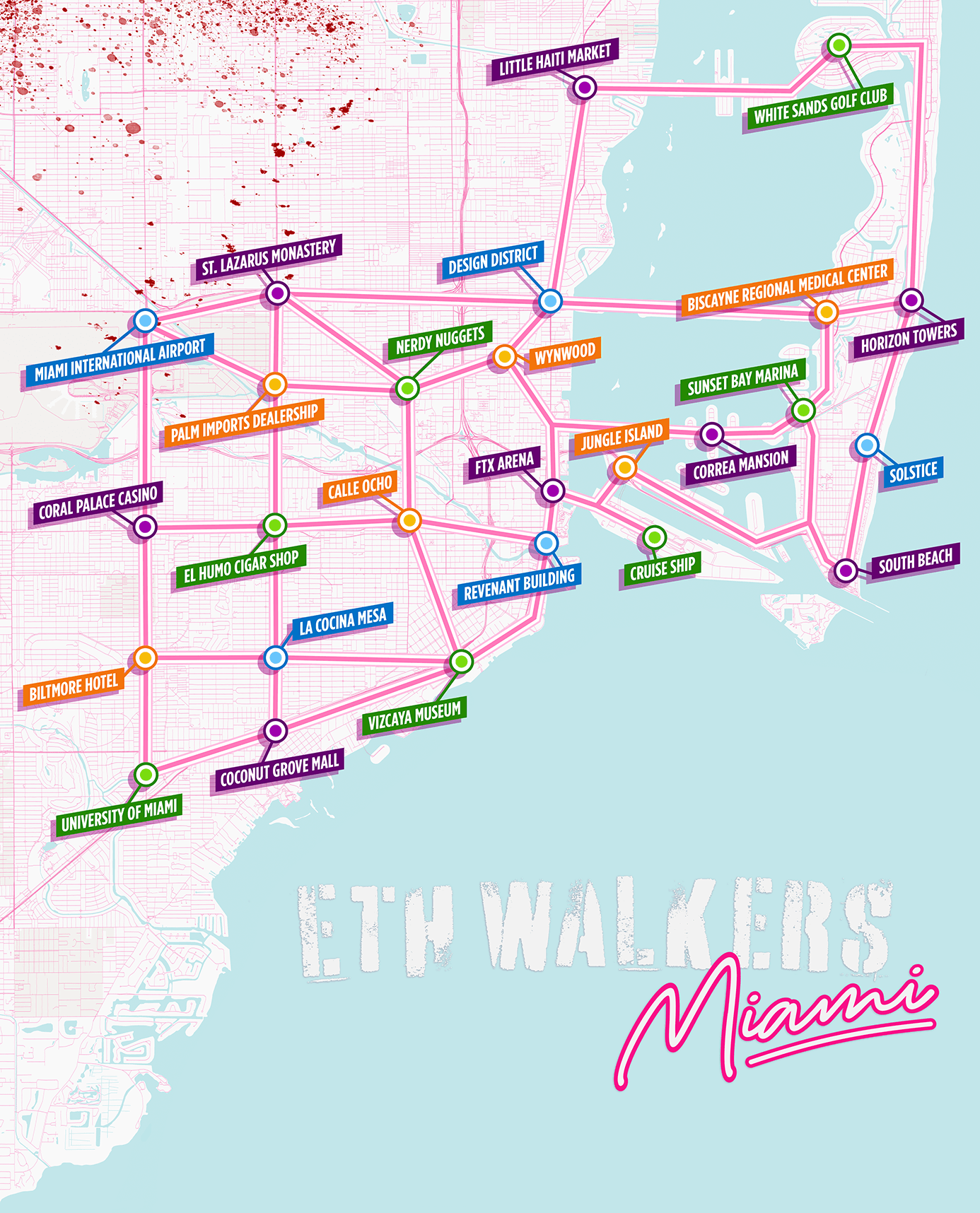 LOCATION DESCRIPTIONS:
Miami International Airport
Located on 3,230 acres of land near downtown Miami, the Airport now offers more flights to Latin America and the Caribbean than any other U.S. airport. Miami International is America's second-busiest airport for international passengers, boasts a lineup over 90 air carriers, and is the top U.S. airport for international freight. 
Coral Palace Casino
For some gambling fun, trot over to the Coral Palace, where you might strike it rich on one of the money-spewing slot machines. It's a great place to wind down after taking in a football game, concert, or Miami Open tennis match at the Hard Rock.  The casino features a 100,000-square-foot gaming floor with 1,100 slot machines, including video poker, as well as electronic roulette and blackjack. Live entertainment can be found here on a weekly basis.
Biltmore Hotel
With a timeless appeal and style, The Biltmore Hotel is Miami's most elegant National Historic Landmark. Spanning over 150 acres of tropical landscape, this 271-room resort, includes 174 suites and features spectacular Mediterranean architecture with Italian, Moorish, and Spanish influences. 
University of Miami
A private research university with more than 17,000 students from around the world, the University of Miami is a vibrant and diverse academic community focused on teaching and learning, the discovery of new knowledge, and service to the South Florida region and beyond.
Coconut Grove Mall
Reimagined for the 21st century, Coconut Grove Mall is a different kind of space for a different kind of neighborhood. Inspired by tropical gardens and our lush surroundings, Cocowalk is designed for discovery, exploration, and even creating new things. Sure, we've got culture. Yeah, we've got commerce. But we've also got our secret ingredient: nature.  Come hang out and chill out in one of Miami's most vibrant and innovative communities. It'll grow your mind!
El Humo Cigar Shop
An elegant domain, where the noble pastime of smoking a cigar and sipping on whiskey creates a lifetime bond among friends. With over 2,000 cigars and 200 whiskeys, you will be sure to discover the finest there is to offer.  And, for those of you lucky enough to earn a membership, the Members Only Lounge is known to be THE location for some of Miami's most rich, beautiful, and powerful.
Palm Imports Dealership
Where can you find the best new & used cars, including luxury & exotic vehicles? Nowhere else but this Miami Car Dealership.  Sure, the service is awful and the attitude is a little uppity, but the cars are… ok.
Nerdy Nuggets
The best fast-food restaurant chain in the city and a Miami locals' favorite.  This hidden gem can be found in various locations throughout the Northeast and is quickly expanding up the coast and into the hearts of every man, woman, and child who get a taste of those little, crispy, golden nuggies.
Vizcaya Museum
Named after one of the most captivating shorelines on the Spanish coast, Vizcaya Museum & Gardens captures jaw-dropping European extravagance in an enchanting American context. The home's builder, James Deering, was a prolific industrialist who explored uncharted territory in the creation of this ambitious home, building his Renaissance-inspired estate at the heart of Miami's tropical hardwood hammock.
Calle Ocho
No trip to Miami is complete without a visit to Calle Ocho, a vibrant thoroughfare lined with Latin-inspired restaurants, bakeries, fruit stands, cigar shops, rum bars, art galleries, and music venues. It's also where you'll find the famed Máximo Gómez Park (known as Domino Park),where locals gather to talk politics over heated games of dominoes.
La Cocina Mesa Restaurant
One of the few Cuban restaurants in Miami that people still get dressed up for, this Cuban Restaurant is at once polished and rustic, with lots of wood accents and cozy nooks that are perfect for celebrations, of which you'll see lots of on the weekends. It's perennially busy for a reason: the extra-large portions of tasty Cuban eats at affordable prices. Simple as that.
Revenant Building
Cold, steel, and opposing.  The Revenant Building is the home of Joseph Conway's empire.  This Biotech and Research company has spared no expense with the building's architecture and security features.  Good luck trying to get any secrets out of the Revenant Building… it puts Fort Knox to shame.
FTX Arena
Miami's FTX Arena is an international, versatile venue in a vibrant waterfront setting that showcases world-class and sophisticated events. Located in Downtown Miami on the waterfront of Biscayne Bay, the Arena is positioned between the skyline of the city, its beautiful beaches, and the nightlife of South Beach.
Wynwood
Wynwood is known for being an entertainment district, with artwork, restaurants, breweries, clothing stores, dance venues, among other retail options. Formerly an industrial district, the area is now known for the murals that cover the walls of many of the buildings.
Design District
The Miami Design District is a creative neighborhood and shopping destination dedicated to innovative fashion, design, art, architecture and dining.  The District is home to more than 120 flagship stores making it one of the world's greatest shopping areas. Visit three cultural institutions — ICA Miami, the de la Cruz Collection, and Locust Projects — within blocks of each other, or explore the rigorously curated and totally Instagrammable public art program woven throughout our streets. And let's not forget the multiple artisanal ice cream experiences on hand in the District.
Little Haiti Market
The marketplace is set in the vibrant working-class Little Haiti neighborhood in Miami, home to a large Haitian population. Unlike many pockets in South Florida, it's low on campy tourist attractions, instead full of authentic shops, Haitian bakeries, restaurants, art galleries, and vibrant street culture.
St. Lazarus Monastery
This quiet, yet odd little monastery doesn't seem to fit with the lifestyle and pace of the great city of Miami.  The community of monks are secretive as they cloister themselves from the outside world, seemingly devoted to holy living and an ancient vow of solitude. The monastery, with its vibrant garden, once served as a place of calm reflection for the surrounding community. Nowadays, people are rarely seen passing (either in or out) through the closed doors, but you will often catch a glimpse of a cloaked figure watching out over the city through a window.
Cruise Ship
There are plenty of options when it comes to planning the perfect vacation, whether it's a family adventure, a couple's escape, or a sun-soaked island hop. But if you're after an unforgettable experience that exceeds expectations on every level, nobody does it better.  Our ships have won awards for spectacular service, OCD cleaned accommodations, and dazzling entertainment.  No one's thrown up on our ship for years… years, I tell you!
Jungle Island
Wild in name and in nature, Jungle Island is a slice of paradise that you won't want to miss.  Don't let the tropical theme and overgrown wildlife confuse you, Jungle Island is known to be THE hub for some of the craziest car enthusiasts in the world.  Whether you're a motor head or the average car enthusiast, the locals are friendly and the environment is to die for.
Correa Mansion
The 30,000 square foot lot is composed of three buildings: A four-bedroom, three-and-a-half bath, 6,000 square foot villa; a two-story pool cabana; and a two-bedroom, one-bath guesthouse, which an unnamed, legendary gangster uses as a guardhouse, because you make a lot of enemies when you become a cartel boss.
White Sands Golf Club
The Golf Club of Miami has two traditional 18-hole courses offering a classic Florida golf experience. The club was founded in 1961, with Terry Palmer (a third cousin to Arnold) as its first and only professional. This 7,017-yard par-72 course with a slope of 132, offers a challenging adventure for both the professional and the novice.  Watch out for gators though!
Biscayne Regional Medical Center
The Island Hospital sees more action than one might think.  Whether you are suffering from extreme sunburn or a barracuda attackc this Hospital has some of Miami's top physicians, including its award winning Pediatric Oncology wing.
Horizon Towers
The newest residential tower has arrived in Miami with some relatively sweet views in every direction. Exceptional amenities across 50,000 square feet with in-house wellness, a private beach club, and a three acre park outside your front door.  The outside might be hideous but the inside is pretty nice.
Sunset Bay Marina
The first deep-water super-yacht marina of its capacity in Miami, the Marina enables yachters and global citizens alike to step directly from their vessels into the vibrant lifestyle of the city and the beach. It's no kiddy pool with its 7,000 linear feet of slips with depths up to 27 feet.  Super easy to drown someone here… just saying!
Solstice Night Club
Entertainment is reimagined at this immersive adventure encompassing the luxury and sophistication of a one-of-kind experience. This high-energy social playground is known for live performances by some of the biggest stars. The most modern accoutrements blend with premium bottle service, a delectable food menu, and chic hospitality, all offered in an alluring environment that is as sexy as it is sophisticated. 
South Beach
People watching is a great pastime in Miami's South Beach, which draws celebrities and beautiful people in skimpy swim attire to see and be seen (yes, Ron Vermillion frequents this spot). The wide and fine, white sand-covered beaches are popular spots for fashion photo shoots, so you're sure to see models. The area is known for its hip clubs and wild nightlif,e as well as numerous excellent restaurants.